Remodeling a bathroom can be overwhelming. This is especially true with homes in Washington, D.C. as interior space is extremely limited.
To ensure your bathroom renovation runs smoothly, we here at Finesse Design Remodeling have put together a quick 5-point checklist for you to use, which can help you avoid feeling overwhelmed throughout this project.
Budget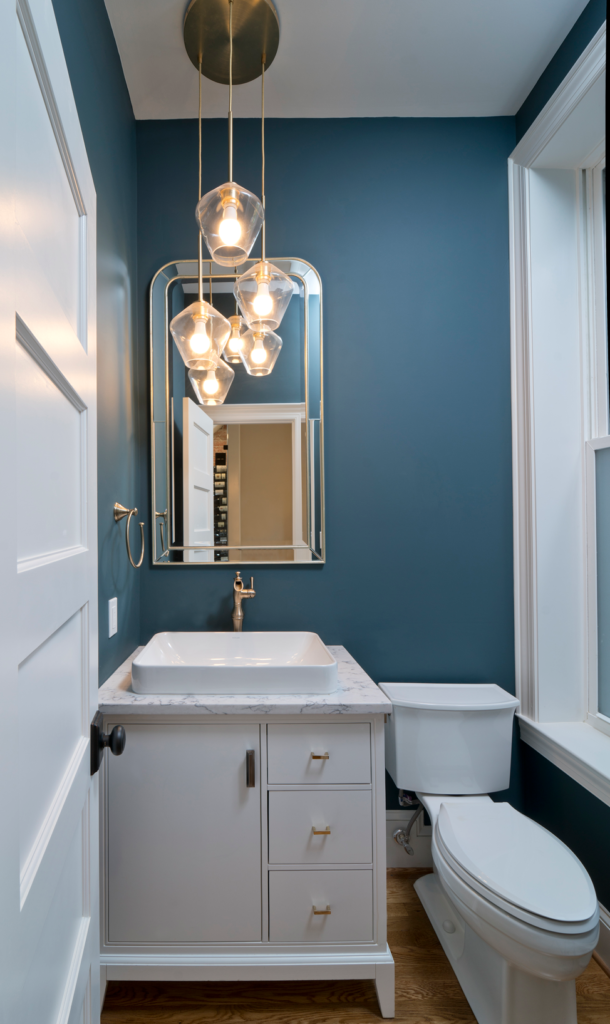 Just like with any project you are about to embark on, the first question you need to have answered is 'how much should I afford to spend?'
Setting a budget will help guide you as you make decisions about what to include and exclude, the level of craftsmanship you expect, and the quality of materials you want to incorporate into your bathroom renovation.
And, knowing your budget will help you to choose which contractors to reach out to because pricing will vary considerably since not all contractors offer the same level of quality and service.
So, you need to determine what is more important to you – cost or value? Information online can be skewed and price depends on the region you live in. Some information suggests that a bathroom remodel costs as little as $6,000 – $9,000.00 – way too small of a budget for a full remodeling job!
For this range, you may replace the shower tile or some of the fixtures but that doesn't constitute a full remodel.
Other sources suggest that a full bath remodel should cost $10,000 – $16,000.00. This could be the case so long as you don't rearrange the layout and you limit your selections to lower end products, or plan to re-use some of the existing fixtures.
So, if you are going the cost route, then your best bet may be to stick with off the shelf products and fixtures you can buy at Home Depot or Lowes. However, if you truly want a bathroom that suits your design and function criteria, then your best bet is to go the custom route. If you are considering selling your home in the future, a well-designed bathroom will realize more value at resale. Achieving this will require some design expertise to help you navigate the way.
Here are some additional questions to have answered when deciding on your budget and which contractor to hire:
Will your contractor include?
Design and materials selections?
Permits and inspections?
Licensed plumbers and electricians?
New dedicated circuits included for lighting and GFCI plugs, or is the contractor assuming the current wiring schematic is adequate?
Time
Just because you have a small bathroom does not mean it will take a lot less time than a large bathroom to remodel. The same materials need to be ordered (e.g. cabinets, light fixtures, and tile), which will take time to be delivered and installed.
Also, depending on the number of items you are replacing in your bathroom, your hired contractor will need to go through all the same steps he and/or
she would have to go through with larger bathrooms.
Lastly, if the bathroom you are remodeling is the only bathroom in your home, then this is something you must consider as well during your bathroom renovation. You don't want to be stuck in a precarious situation in which need to rely on your neighbor's home to use their bathroom, or the nearest McDonald's.
Added tip: a "full gut" and remodel of a typical bath should take two and a half to four weeks. If someone promises under two weeks, then chances are your bathroom remodel will not turn out favorably.
Hidden Problems
Based on your initial consultation with your contractor, the renovation seems like it will go according to plan, suddenly, however, there are hidden problems once work begins.
Regardless of the age of your home, the biggest hidden problem you can encounter is water damage.
It is important to look for structural deficiencies in the floor framing, plumbing that may not be adequately vented, old or damaged plumbing, tile shower/tub surrounds that aren't waterproof, and more.
If you are doing a major bathroom remodel, then it is ideal for you to consider doing a "full gut" renovation. Hiring the right professional design/build firm will help ensure your bathroom remodeling process is enjoyable because your firm will be able to creatively solve any problems that arise, your bathroom will function flawlessly, and the remodel will add significant value to your home.
Here are some additional considerations for potential hidden problems:
Inadequate sub-flooring, which can cause ceramic tile to crack
Improper toilet flange and/or wax ring installation causing leakage and sub-floors to rot
Circuits that aren't ground fault protected, which can cause shock or electrocution hazard
Waste vent system improperly done or undersized, causing toilets to burp, and slowing the drainage of sinks and tubs
Design Style and Functionality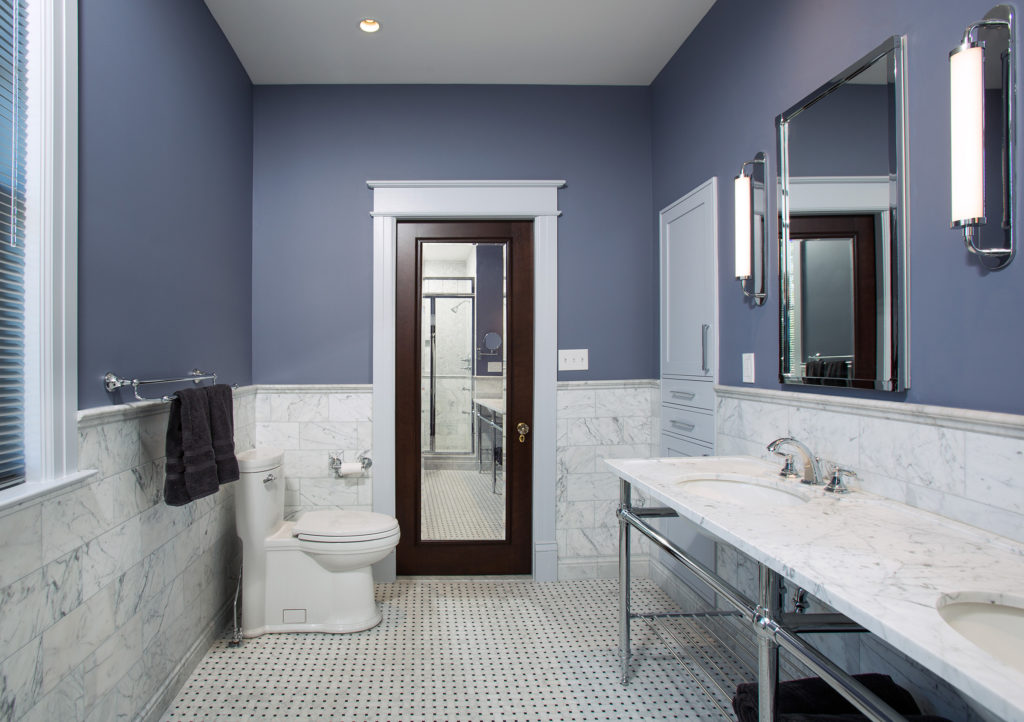 There are so many design and functional elements to consider with the bathroom you envision, which can cause overwhelming stress. What paint color do I choose? What tile choice(s) do I go with? How about the showers, tub (if wanting a tub), faucets and lighting? What options do I choose to set the right ambiance or mood within the bathroom?
You can do investigative research online, which can take hours, days, months, or even years during your spare time. And during this lengthy process (which may be when your first grandchild is born), you can piece together elements you like and hope for a cohesive design that functions well.
Or…
You can seek professional help from a reputable design and build firm that is partnered with you each step of the way through this process. This is the recommended approach as such companies are specialized in coordinating everything for you from start to finish – more on this later.
You will also want to consider the eventual resale of your home, and think of how the bathroom design will fit in with the rest of your home. For instance, it may not make sense to have an Arts and Crafts styled bathroom when the rest of your house is an Art Deco theme.
Ultimately, the design style of your bathroom should work hand in hand with the functionality you envision.
Here are some additional questions to have answered?
Are multiple design concepts presented, and are the floor plans and elevations discussed with you to determine the best possible layout?
Is there going to be a formal process for material selections? Will a professional designer assist you by providing samples or visiting showrooms with you? Will their selections process harmoniously bring together style, color, and texture of the fixtures and materials, and capture the design theme that you want?
Will the design flow well? Is there potential door and/or drawer interference? Is there adequate clearance in around the different bath fixtures?
Is the lighting thoughtfully addressed so that applying makeup or shaving is a breeze?
Cabinets, Storage, and Shelving
As mentioned earlier, space in D.C. homes is limited. Therefore, you must think creatively about how you can have a beautifully designed bathroom to serve your functional needs while ensuring you have enough cabinet, storage and shelving space that is reachable.
This can be especially tricky if you are raising a family and you need ample space to store things like diapers, extra towels, and more.
Additional tips:
Well planned shower niches are a great place to store bath products.
Ledges can be incorporated into the design which also provide a place to store bath products
Built in linen towers are good for storing towels, diapers, etc., and incorporating an outlet inside a cabinet is a great way to charge items such as toothbrushes and razors while keeping them out of sight.
Recessed medicine cabinets can be utilized for storing pharmaceuticals, personal hygiene products, etc.
Sometimes less is more. If there is plenty of storage adjacent to the space, or if space is limited, perhaps you want to consider a pedestal sink, corner sink, or drop in vessel style sink, which can be used to save space.
Bonus: How Do I Find and Hire the Right General Contractor to Remodel My Bathroom?
More than likely you will need to hire a contractor. However, given that there are so many contractors out there, choosing one that will ultimately deliver the best value for your bathroom remodeling needs is the way to go. Of course, this requires some research on your part or seeking advice from friends and/or family who may have already shared with you who not to go with based on their horrific experience.
One rule of thumb is not to seek multiple contractors to handle different parts of your bathroom remodeling project – e.g. a flooring contractor, a plumbing contractor, an electrician, etc. This can lead to added stress and more headaches trying to coordinate all of this – this is what a general contractor is supposed to do.
Also, if you are going the value route for your bathroom needs, then hiring a general contractor that also specializes in design is your best bet. Essentially, these companies will be with you each step of the way – from the initial consultation, through the design concepts and the construction phases. Similar to a wedding coordinator, these firms will take almost all the stress off your shoulders so you can focus on other areas of your life, and not have to go to bed worried about whether or not the job will deliver the value you desire and be completed on-time.
Lastly, a reputable design and build contractor will ensure that any hidden problems are met with a solution – sometimes a creative one – to ensure your bathroom is delivered within the agreed budget.
Additional Tips:
Think about the entire process. Will your salesperson hand you off to a design person who hands you off to a production person? Or will you be working with the same people throughout the entire process?
Don't hire the lowest price contractor (this isn't the government), or someone who promises the job will be completed too quickly.
What is the contractors warranty policy?
Will the contractor take care of all drawings and documents needed for permitting, and handle the permitting process for you?
These are our five (5) checkpoint tips to ensure your next bathroom remodeling project goes right. Of course, there were some others we could have added, such as plumbing fixtures and features; proper measurements; walls and flooring; lighting, accessories, final cleaning and more. If you keep these five (5) checkpoint tips handy, however, and decide to go the with a design and build firm to deliver the best value for your buck, then your hired contractor will help ensure that all of these other points are addressed to meet your bathroom remodeling needs.
About Finesse Design Remodeling:
Finesse Design Remodeling is an award-winning full-service design-build firm specializing in fine renovations and restorations in the Washington DC Area. We work with you from start to finish in whole house renovation and restoration, including kitchen and bathroom remodeling, and interior and exterior design.