If you reside in the D.C. area, then you know winter temperatures weren't predicted accurately by our groundhog friend, Punxsutawney Phil. The first day of spring is Monday, March 20, and spring-like temperatures are here already (minus the snow from the other day). This means spring cleaning and home projects are soon to be underway.
Instead of waiting until spring to release our home design trends for you to consider with your upcoming interior home design and remodeling projects, we figured it would make better sense to go ahead and release some insights now. So without further ado, here are some popular trends in 2017 for you to consider:
The Colors of 2017
The Color of Nature
The beauty and colors of nature can put anyone in a good mood, especially inside your home. One current trend that is stunning in the modern household is the wood element as it provides a feeling of getting closer to nature. Panatone also named "Greenery" as their 2017 Color of the Year, is a vibrant and refreshing shade of green reminiscent of lush foliage. A great way to incorporate this dramatic color into your home is through the addition of potted plants in your décor.
Jewels Tones are big for 2017
The colors from jewels tend to capture the attention of many designers as well as homeowners. The saturated and bold colors of jewel tones, from emerald green to sapphire blue, is perfect for accents in home furnishings and art pieces.
Taupe or Shadow
Whether you prefer the drama of "Shadow" as Benjamin Moore does, or a softer version such as "Poised Taupe" by Sherwin Williams, these trendy purple shades for 2017 will surely bring class and warmth to your space. Neutral yet impactful, when combined with other colors, they give joie de vivre (enjoyment of life) inside your home. A departure from 2016's Color of the Year, "Simply White", these new neutrals further demonstrate that 2017 is all about color!
The Kitchen
The Two-toned Craze
Two-toned themes have maintained popularity in kitchens. Most two-toned kitchens use rich wood finishes combined with lighter hues of white or cream. However, grays, blues, and even navy are making a presence especially when tempered with or with luxurious champagne bronze or brass tones. These color combinations let the whole kitchen look well designed, rich, and fabulous.
Everything Clean and Simple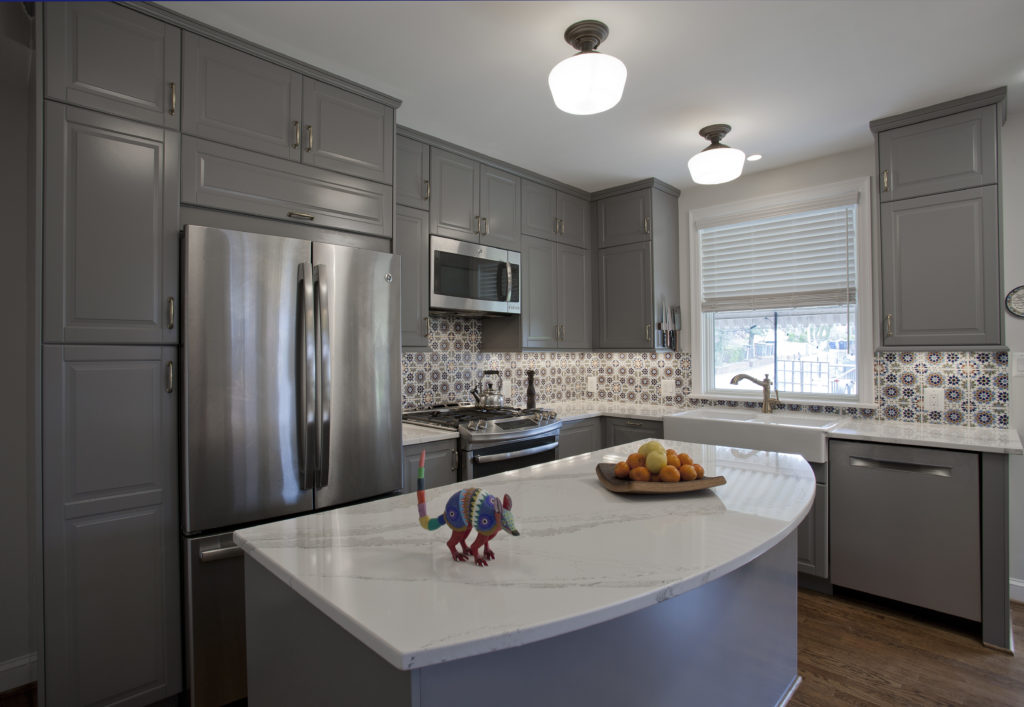 One popular trend with kitchen designs today is a simpler and clean look. Many homeowners, for instance, prefer to have cabinets with simpler door designs such as a slab or shaker profile. The simpler door style goes hand and hand with the more dramatic trending kitchen tones of 2017.
Quartz on the Countertop
Tiles on your kitchen counter or mainstream granite colors can give your kitchen an outdated feel. Although some homeowners still prefer granite countertops for both their kitchen and bath, quartz composites are starting to get more attention. Quartz has the same durability as that of granite but because it is a manmade product, it lends itself beautifully to contemporary or transitional designs. Plus, quartz countertops are non-porous, so sealing is not needed.
Essential Cooking Wares
Technology in the kitchen is catching up, which means you better be ready for more modern cooking tops and other appliances inside your kitchen. Induction cooktops are gaining popularity, especially when gas cooking is not an option. Built-in microwave drawers that save space with a modern appearance is also a great idea for the kitchen.
The Bathroom
Closer to Nature in Contemporary Style
Contemporary style with a touch of nature is now in. Whether it is your sink, tub surrounds, shelves or linens, the touch of nature with neutral wood and greenery colors is a 2017 trend. Most of these designs can be seen in spas where people go to aide in relaxation, and this trend has slowly dominated in the residential sector. The modern twist of nature-inspired bathrooms can easily attract homeowners because of its relaxing qualities.
The Tile Styles
Geometric tiles are getting more attention, creating a more artistic and unexpected twist from your classic square or subway tile inside the bathroom. Another style getting attention is Moroccan inspired tiles or encaustic cement tiles which feature different lines, shapes, and patterns. If you are not into attention grabbing patterns, then classic subway tiles with a contrasting grout may come as a better choice for you.
Contemporary Fixtures, Cabinets, and Sinks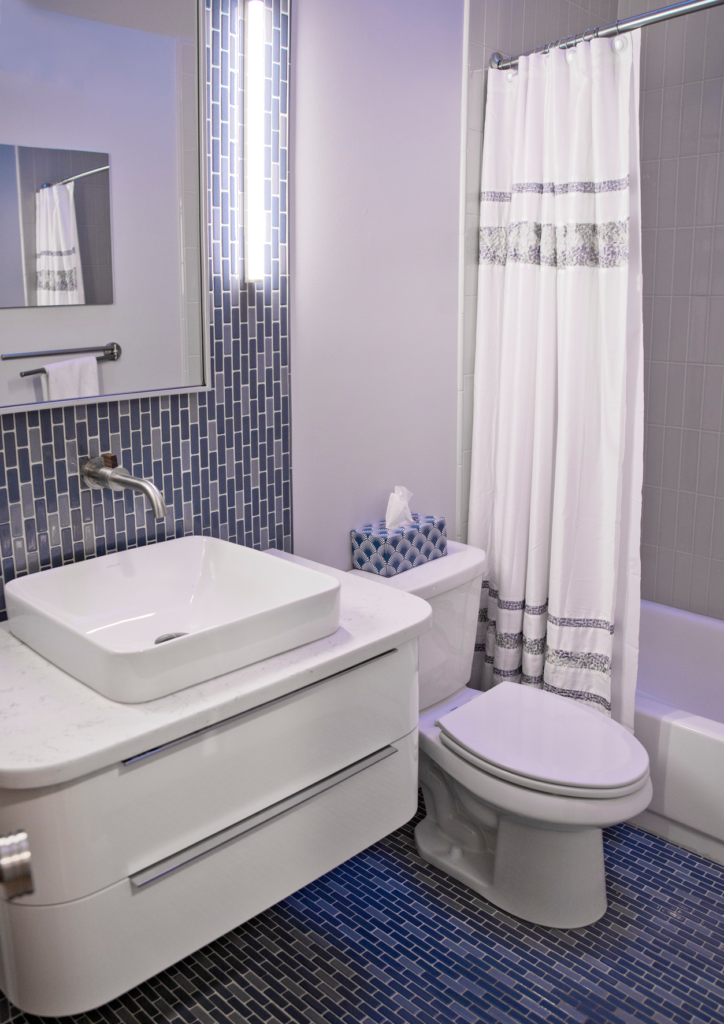 Many homeowners want a contemporary style integrated with their whole interior design. Most of the contemporary fixtures, cabinets, and sinks are simple, easy to maintain and simply stunning. Undermount sinks are a staple in contemporary bathroom designs, and the greenery trend is also incorporated well on contemporary fixtures, cabinets, and tiles by using neutral colors and adding wooden elements in the design.
The Technology for Your Home
A Smart House in the Palm of Your Hands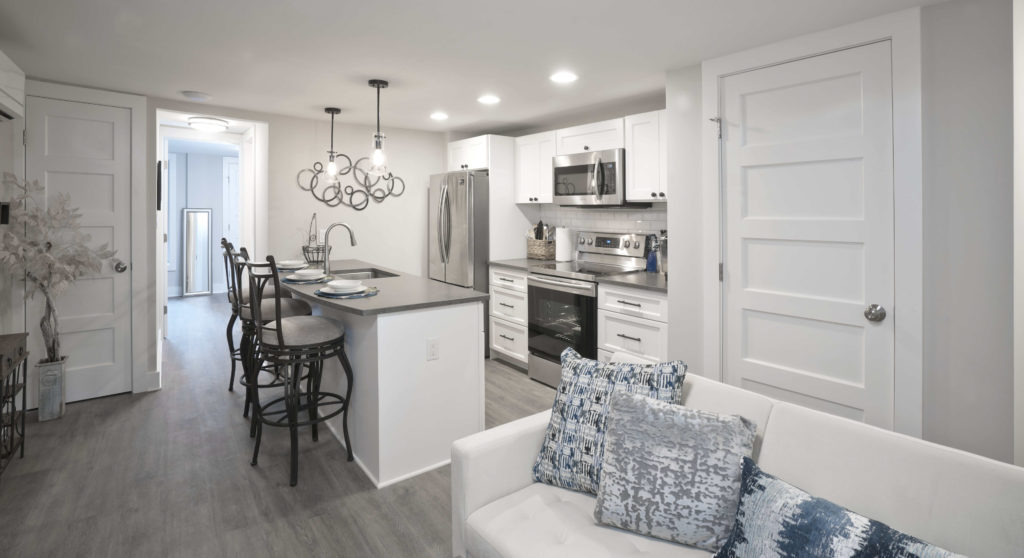 Your whole home can slowly become easier to maintain and control with the help of cool new apps. Want to have a warm bath ready? Tap your iPhone. Want to have the lights dim during the night, or the air conditioning on a steady temperature during the day? Set it up on your smartphone, so you don't have to come home with rooms that are too hot or too cold.
We hope you found these insights helpful as you embark on your home design and remodeling projects. If you are in the market for a free home design consultation, then don't hesitate to contact us.
You can also become a member of our awesome community below of D.C. homeowners who receive weekly tips and insights straight to your email inbox: